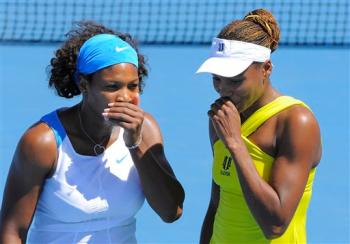 Poor old Streakerama. This site has been dreadfully neglected for months. Thankfully a man without pants at the Australian Open has prompted me to add a long-overdue post.
Streaker interrupts match at Australian Open – AFP
Serena Williams couldn't believe what she was seeing. A nearly naked man had just run on court while she and sister Venus were playing doubles at the Australian Open, prancing around before being arrested.

"I just thought, my eyes, my innocent eyes," Williams said Saturday, still chuckling at the memory…

The man, wearing only a shirt, jumped onto the court, sprinted across the sidelines and made several dance moves.

"First, I saw him jump over and then I noticed he didn't have underwear on," Williams said after her third-round singles victory over China's Peng Shuai. "I thought, `OK, I must be seeing things.'

"He ran out on the court. I was thinking, `I hope he doesn't come,' because he was pretty close to me and V. I was like, `I hope he doesn't come, he's too close.' Then I thought, `This is crazy.' Doesn't really happen too much."

As he headed toward an exit, the man was met by security guards, arrested and banned for the event. He was not immediately identified.

Australian Open officials said the streaker was on the court for 14 seconds.
Unfortunately I haven't been able to find a pic of the streaker himself. Here's a quick video:
Also, check out this piece about streakers being tolerated in Queenstown: What's so wrong with being naked?