The Streaker Hall of Fame
The One With The Bobby's Hat
The One At The Oscars
The One That Jumped The Stumps
The One Where Chappell Grabbed Him
The One With The Sexy Chick
The One at Wimbledon
The One That Just Keeps Popping Up Everywhere
---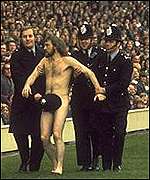 Michael O'Brien became more famous for his photo than for the actual streak. O'Brien, an Australian accountant, was in Britain attending an England-France rugby match at Twickenham when the urge to run came upon him. During the half time break, he dashed naked before a crowd of 53,000, including Princess Alexandra. Constable Bruce Perry took off his helmet to cover O'Brien's dangly bits. "I feared he would be mobbed, or that other people would follow suit. I felt embarrassed so I covered him up as best I could.
"It was a cold day - he had nothing to be proud of," Perry said on the documentary Streakers. "I didn't know what to say so I gave him the caution: 'You are not obliged to say anything unless you wish to do so, etc etc' and he's standing there, arms outstretched and he looked like Jesus. So he turns around and says 'Give us a kiss' as loud as you can."
The ensuing photo became world famous. The Rugby Club in London erected a statue by Walter Keethner, based on the shot. It eventually appeared on greeting cards and billboards in Britain, and in Australia Holeproof used it as part of an advertisement in 1991, much to O'Brien's disgust. "[It] implies I am in some way endorsing Holeproof products, which isn't the case," he said at the time. The ad had him asking the bobby for directions to a "20 per cent off Holeproof underwear sale." In 1995, a British telecommunications company used to photo to advertise that phone numbers were having a digit added.
Having bet a mate £10 that streaking would catch on in Britain, he decided to help the cause along. "I quite honestly thought I'd get to the other side of the oval, get dressed and disappear into the crowd without anybody ever knowing it was me," he said in 1994. Instead, the photo ensured his place in pop history. He was fined £10, and subsequently lost his job with a London stockbroking firm, so little came to him aside from a little slice of fame.
-The Telegraph, 23 April, 1974, The Sun, 3 May, 1976, The Sydney Morning Herald, 23 April, 1994, Streakers

Update: 30 years since Michael did his streak. There's a few news items and my thoughts here.
Update 2006: Read Michael's first ever interview here.
---
Robert Opel caused a worldwide sensation when he ran behind an at first oblivious

David Niven at the 1974 Academy Awards in April of that year. Niven recovered by making comments about the streakers "shortcomings." Opel owned up to the act later. He was not arrested for the incident, but was later found guilty of disrupting a City Hall meeting in Los Angeles on October 3, 1974. Attempting to get the council to back nude beaches, he "removed his blue tracksuit and stood up nude... to prove, he said, that 'nude is not lewd.'"
Opel, an unemployed publicity agent at the time of the streak, went on to open a sex shop, where he was shot to death in July 1979 during a robbery.
-The Sun, 31 October, 1974, The Mirror, 11 July, 1979
---
The One That Jumped The Stumps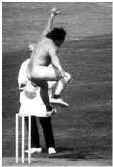 Michael Angelow was possibly the first and most famous in a long tradition of streaking at the cricket. Having consumed a few "cans of Australian lager", Angelow raced onto the field at Lords and athletically hurdled the stumps before being embraced by the local constabulary. A shocked commentator said "Well I've seen nothing like this at Lords before." Australian cricketer Alan Turner is said to have roared with laughter. The crowd loved it.
Angelow said later he waited until the end of Lillee's over because "he loves the game and didn't want to disrupt it." The magistrate looked upon the incident lightly and fined him only £10 - the exact amount bet against him by his mates. Upon hearing this, his friends stood in the courtroom and applauded, cheerfully paying his fine.
Australian cricket captain Greg Chappell, never a fan of the fad, blamed Angelow for the increasing interruptions by streakers at the cricket. "There was a bloke who jumped the stumps..." he said in 1996, "and all of a sudden it became a fashion. And then everyone realised if you didn't give them any publicity they wouldn't do it. It died a natural death after that."
Not completely.
-The Telegraph, 5 August, 1975, The Sun, 6 August, 1975, The Sunday Age, 21 July, 1996, The Adelaide Advertiser, 4 January, 1997
---
The One Where Chappell Grabbed Him
Greg Chappell was not known to stand back and let a streaker get away with it. On several occasions he chased a runner and made a "citizen's arrest" until the authorities arrived. One of the first occasions was in Christchurch, where he tackled a naked man who was attempting to get over the fence, then "smacked him an admonishing blow on the bottom. The streaker turned and grabbed Chappell's cap. Chappell set out after him again..."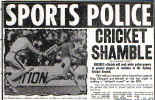 "I took his hand and didn't let go," he said. "When he realised the police were coming he tried to get away so I gave him a whack or two to quieten him down."
During a tense game, also in New Zealand, Chappell was batting when a student, wearing only headphones, ran towards the stumps. "I didn't know if he was going to try and souvenir a bail or some stumps," he told the documentary Streakers. "I put my hand out to shake hands with him, which he accepted. I had my bat in my left hand and gave him a couple of sharp cracks across the buttocks just to try and get him to stand still. Finally the police got there and took him away." Distracted by the roar of the crowd, Chappell was run out the next ball.
The streaker went on to charge Chappell with assault. "I think what he did to me was worse than what I did to him." He did, however, maintain that the crowd enjoyed the spectacle.
In another incident, Chappell grabbed a trouser-less man by the hair, and hung on for several minutes, marching him to the fence to be arrested. Eventually, players were cautioned to leave the nude invaders to the police. Legal advisers warned that streakers could sue for damages if they were injured.
- The Telegraph, 31 January, 1977, The Sun, 21 December, 1979, The Sun, 31 December, 1979, Streakers
---
"Busty" Erica Roe, 24, ran topless onto the Twickenham field during an England-Australia rugby union, after taking a sickie. "There's nothing indecent about my breasts," she told a newspaper.. "Everyone loved them." Her boss almost fired her, and she was promptly offered photo shoots in girlie magazines. "My reputation is worth more than that," she pointed out, although she did later do some clothed modelling work.
"It happened so quickly. Too quickly in fact, because if I'd thought about it a bit more, I wouldn't have done the streak. It happened so spontaneously - within seconds I had unhitched my bra, thrown it to some guy behind me and said 'I'll be back for that in a minute.'" Erica told the Streakers documentary she streaked at half time because she wanted to watch the second half.
"I ran out and I had not thought about police or guards catching me, or any kind of anger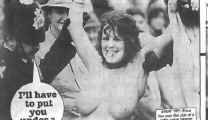 or irritation, just fun. And I didn't actually get very far. All I remember was running as fast as I could with my arms in the air and the crowd erupted. I assumed the game had started. But when I looked around, my arms were up in the air and I realised they were shouting at me. And that was really fantastic. It was a good feeling. I had a moment of really feeling what it was like to be the Rolling Stones or Genesis up there on the stage. It was marvellous!
"I really can't give a straight answer as to why it happened, except that I'd had a few beers and was a bit eccentric."
- The Mirror, The Australian, The Sun, 4-6 January, 1982, Streakers
---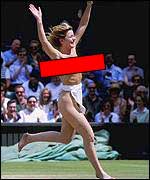 Just as Richard Krajicek and MaliVai Washington were about to begin play in the 1996 Wimbledon men's final, a 23 year old girl wearing only a small apron distracted them. And everybody else.
Melissa Johnson dashed naked across the lawn, pausing to "flash" the Royal Box where the Duke of Kent sat laughing, before being hauled off by a couple of Bobbies and given a stiff talking to. Krajicek said it relaxed him. Washington's response was the opposite. "I saw these things wobbling around and, Jees, she smiled at me," he said. "Then I got flustered and three sets later I was gone." - From article in AWF.
---
The One That Just Keeps Popping Up Everywhere
Note: Mark Roberts is so prolific I've given him his own page. Updates on Mark's latest streaks are on the Recent News page.