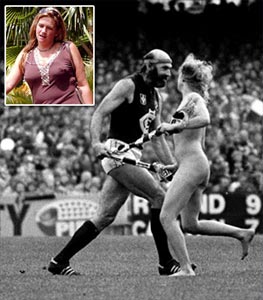 The Northern Territory News (and News Ltd) has tracked down one of Australia's more famous streakers, Helen D'Amico. She's currently living in Darwin and studying a nursing degree.
Helen made headlines when she streaked at the 1982 AFL grand final between Carlton and Richmond. Wearing only a scarf, she did her best to cuddle bald player Bruce Doull.
Interest in the streak has re-emerged because Doull agreed to re-enact the streak for a Toyota commercial.