Streaking News 2002 - 2006
(for more recent streaking news, please see the main page)
Streaker at the Winter Olympics closing ceremony
"A naked woman was nabbed by security guards and ushered, slowly and deliberately, out of the stadium after streaking across the infield as the festivities began."
27 February 2006
From this article:
Hats off to Turin
Mark Roberts was the Winter Olympics streaker
The 2006 Winter Olympics at Turin had the honour of hosting the first curling streaker - and it turned out to be none other than serial streaker Mark Roberts. Roberts ran onto the ice wearing nothing but a rubber chicken. As in past streaks he was advertising an online casino.
25 February 2006
Further info:
Curling history: 1st US Medal, 1st streaker
Students naked in Newport
Around 40 male students from Harper Adams University ran naked through the streets of Newport as part of a rugby initiation. Disciplinary action is being considered.
More info and a video at BBC.
14 February 2006
Further info:
Mystery of cheeky streakers is solved
Naked man streaks through parking lot
A 47 year old Central Florida man stripped and ran madly around a parking lot, shocking shoppers until police arrived. He had taken an overdose of Ritalin.
Local6, 24 January 2006
Streakers strike at library during exams
Emory police report that a group of college-aged men were running around the Woodruff library at 3am. One man was arrested.
Emory Wheel, 27 January 2006
Students keep U. of C. tradition's streak alive
70 people streaked across the Uni's main quad as part of the annual Polar Bear Run. "Besides the obvious cold, it was very liberating," said second-year student and first-time Polar Bear Linda Muzere, who went nude. "[The rain] adds to the outrageousness of it."
Chicago Sun Times, 14 January 2006
Streaking is alive and well at Florida's nudist resorts
The Hidden River Resort hosts a 5km clothing optional run that is proving very popular.
Feb 2006 - Press release.
Less-Than-Recent Streaking News
Two men have each been fined $5500 for pitch invasion after streaking on the field during a cricket match between Australia and Pakistan at the Sydney Cricket Ground. The crowd had already had a fab time ignoring the game, creating a giant snake from sponsor-provided plastic tubes, joining them together to make a huge line that stretched halfway around the ground.
Read more about the streakers and the crowd at The Australian.
Various news sources, 4 January 2005

A Taiwanese student who streaked around a campus athletics field after losing a bet has become a focus of protest at his University. The student was given a heavy punishment of two major demerits, two minor demerits, and a detention under surveillance. Fellow students have said the university needs to be more understanding of youthful ebullence as well as freedom of expression.
---
An opinion piece in the Taipei Times said "Societies should tolerate harmless delinquent behavior, because who knows whether geniuses like Elvis Presley, the Beatles, Nicolaus Copernicus or Karl Marx might appear among the 'eccentrics?'"
- Taipei Times, July 2004
---
Journalism student Joe Leineweber took his studies that extra mile when he streaked for an assignment. His teachers had asked students to find a way to creatively overcome their fears, and were asked to videotape whatever they did. Joe knew he was a "modest" man, and so came up with the idea to run naked through the Laurelwood Municipal Golf Course. He had a friend write "I am in no way affiliated with the UO School of Journalism and Communication" in black marker on his back. Unfortunately this gave the whole game away. Lecturers said they did not intend for their students to break the law. The owners of the golf course had called the police about the streak, but said no-one turned up.
Daily Emerald, 28 May 2004
---
Mark Roberts' latest streak was at the World Snooker Championships. Wearing only a pair of novelty teeth he dashed around the table and was led off by officials. Eventual winner Ronnie O'Sullivan also donned a pair of false teeth to accept the trophy as a tribute to his mentor, who used to wear Dracula teeth as a joke.
- Agencies
---
A US war veteran who had recently returned from Iraq celebrated by running naked onto a the field at a Major League Baseball game in Houston. He now faces charges, and if he does it again, will be labelled a sex offender. While most people found it amusing, there were some who thought the act would warp their children for life. For me, the most distressing thing about the article reporting his streak was this sentence: "Hawk is a 22 year old war veteran."
- ABCOnline, 21 April 2004
---
Fresh from facing a French court after his French Open appearance, it seems that Mark Roberts could be facing jail in the US. Prosecutors seem quite keen to put him in the slammer, according to various news reports. They have no intention of dropping a trespassing charge against him, and he could be made into an "example" in times of terror-hysteria. Roberts told reporters: "I could go to jail for six months and be fined £1,100. It does scare me."
- Liverpool Daily Post 15 March 2004
---
A man who streaked onto the World Cup Rugby match between Romania and Namibia at Launceston, Tasmania in October last year has been sentenced to community service. Jacob Swierc, 21, pleaded guilty to illegally entering a sports arena. His lawyer said that Jacob had consumed too much booze and that his streak was the "highlight of a pretty poor game of rugby". Romania won 37-7.

Jacob has since earned new fame because he has appeared naked on a gay website, owned by an ex-teacher. News Limited has gone on a moral crusade against the teacher, saying he is not of "good character" (and neither is anyone who looks at porn, if we take it to it's logical conclusion). Swierc now wants his photos removed from the site.
- Seattle Post Intelligencer, 18 February 2004
- News.com.au, 13 March 2004
---

The American Football Super Bowl game was interrupted at half time as Mark Roberts streaked onto the field. Mark had been dressed as an umpire and made use of his trademark velcro to quickly strip before running onto the field. He was advertising an online gambling service on his front and had the words "Super Bowel" on his back. Mark was tackled by a New England player, and arrested by police. He's been charged with criminal tresspass and public intoxication (I suspect they're making this last one up). The Yanks have of course never heard of Mark and seem generally confused by him. The real achievement here is that Mark managed to get past the mammoth anti-terrorist security surrounding the event.
I've finally made Mark his own page, here.
News articles:
Linebacker levels Super Bowl streaker - SFGate
"Super Bowel" streaker makes irregular appearance at Super Bowl - Yahoo
Streaker disrupts Super Bowl, gets upended by New England Linebacker - Canada.com
- 2nd February 2004
---
Steve Gough, the nude activist dubbed by the press as the "Naked Rambler" finally completed his goal of walking the length of Britain nude after 7 months and 13 arrests. Gough set out from Land's End in mid June 2003, his aim to bring awareness to public nudity and the prejudice against it. His plan to walk to John O'Groat's in Scotland was repeatedly sidelined as he was arrested and jailed on numerous occasions. Steve finally reached his goal after being released from prison in mid January. He hiked the final stages in freezing weather, still only wearing his boots, hat and backpack. He was greeting by a cheering crowd and frenzied press. More info on Steve's exploits at Naked Men News - Various news outlets, 22 January 2004
---
Three naked men got a nasty surprise when their car was stolen while they were streaking inside a restaurant. Three men who made a naked dash through a Washington restaurant ended up being the victims of crime as a thief made off with their car while they were busy inside. Unfortunately, the streakers had left their car running for a quick getaway, and their clothes were also in the vehicle. Police found the three men huddling naked in the car park in freezing weather. The thief had apparently been in the restaurant when they had begun their dash. No charges were laid. "I think it was just three kids who decided to fool around," said an attending police officer. "We always tell people to not leave their car running." - AP 15 January 2004
---
Around 40 German students protested the state of higher education by streaking through the centre of Berlin. Wearing shoes and holding placards, the students shouted their slogan of "We're here, we're naked, and cutting funds for education is stupid" (I'm sure it sounded much better in German). They sprinted through a Christmas market near the central business district, ignoring the freezing temperatures. Reuters, 5 December 2003
---
This streaker certainly has stamina. A naked man ran around the square in China's Changchun city for FIVE HOURS before he was finally arrested by police. The runner impressed onlookers not just by enduring sub-zero temperatures so well, but also by being fit enough to run barefoot around the city for most of Monday morning, the Beijing Morning Post said. - New Independent Press 27 November 2003
---
Here's another interview with Mark Roberts. A bit out of date, but not to worry :)
---
Mark's done it again, this time during the running of the bulls in Pamplona. Mark stripped off and dashed beside the hurtling herd, in possibly the most dangerous stunt he's tried so far. The bulls were apparently not so happy to see him and he became the object of pursuit for two very large and angry bulls.
"I honestly saw my life flash before my eyes," Roberts told Newswire. "I've seen the bullrun on the TV but they are so much bigger and faster in real life... I thought I was a dead man."

Roberts had an ad for Golden Palace casino painted on his back, which makes him one of several streakers who have advertised the online gaming site in this way. - Newswire/PR, 11 July 2003

PS - Mark has given an interview to the International Herald Tribune, here.

---
Online gaming company Golden Palace has taken up using streakers as a marketing strategy. In June two streakers made appearances at sporting events with the company's URL painted on their backs. The first was a male streaker who ran at the French Open golf tournament. The second was a young topless woman who approached golfer Jim Furyk at the US Open.

Previously, Golden Palace had used it's back-painting marketing idea on boxers. - Yahoo news, June 2003

---
Congrats to Mark Roberts, now up to 271 streaks! His latest effort was at the UEFA Cup Final in Seville, Spain, when Mark strolled onto the field just before the second half of the game was due to begin. Dressed in a specially velcroed referee's uniform, he flashed a red card at the real ref, ripped off the gear and attempted a 12 yard shot at the Portuguese goal without success. As usual he was then arrested and carried off to be charged. - KR, 24 May 2003

Earlier, Roberts had appeared before a judge for his big Commonwealth Games streak, charged with public nuisance. Interestingly, prosecution counsel Jamie Hamilton said he had difficulty proving the charge of public nuisance because the crowd had been cheering and clapping happily at his appearance. The judge bound him over and fined him 400 pounds, warning him that things could get serious if he did it again. Mark told the press he had no plans to retire. - BBC Website, 13 May 2003

---
A British student shocked members of the Czech Republic when he streaked during a televised soccer match in Prague. Streaking is almost unknown in that country. Wayne Cleworth, 27, was jailed for two days, and then kicked out of the country, unable to return for at least two years.
Wayne told the Prague Post that he enjoyed the streak. "On the pitch, I was like a man possessed. I heard the stadium go mad. There was this huge roar and flags waving. It was insane. I'll never forget that moment. It seems to me that my treatment was more severe than the crime. I didn't mean to offend anyone, it was all meant as fun." - Ananova, 15th April 2003

---
Nike has taken a leaf out of the Vodafone streakers book and used streaking to promote it's new brand of shoes. The ad features a streaker running onto the field during a soccer game and outrunning the cops thanks to his shoes. Nike advertised for a real person to be the streaker in the ad, through the Streakers Yahoo Group. You can find an example of the ad here.

Note: I was contacted by someone called Justin, asking if I'd post a link to the ad. Interestingly, Justin is from an online marketing company that offers "innovative online strategies". Part of what they do is "Create online street buzz via fan sites, message boards, chats, discussion groups, etc."

Obviously the push to get Nike's ads on various streaking sites is part of a "stealth" advertising campaign. The fact that I've gone ahead and posted this link makes me complicit in this form of advertising, but I'd like to point out I don't endorse their product. Due to defamation laws I'm not going to say why I don't like Nike on this site, but I recommend you check out No Logo, and buy a pair of cheap shoes instead.


---
An ice hockey fan who decided he'd streak at a Canadian Calgary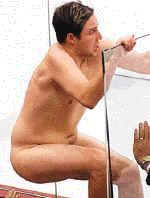 Flames game got more than he bargained for when he knocked himself out on the ice. Tim Hurlbut, 21, slipped while climbing over the glass railing and fell flat on his back, unconscious. While being carried off in a stretcher he came to and pumped his fist in the air to cheers and jeers.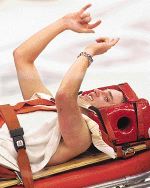 "I felt bad for him, the poor guy. I thought he'd broken his neck," said Flames netminder Jamie McLennan. "Once he started acting like a jackass on the way off, you really didn't feel that bad for him."
"It was weird. I mean everyone was in shock," said Flames forward Steve Begin. "What is this guy doing? I guess he had a few cocktails. It was funny."
The case drew national attention when it occurred in October. The Hockey News referred to Tim as a "naked buffoon". The streaker's trial for indecent exposure was delayed until January 31, 2003.
- Canadian Press 18 Oct 2002, Calgary Herald, 2 Jan 2003


---
40 schoolboys caused a stir at a local arthouse cinema in Sydney when they one by one appeared naked in the foyer asking for tickets. The prank was part of a end-of-year treasure hunt, in which students are dared to do various outrageous thing in order to earn points. The owners of the cinema have started legal action, saying the boys have destroyed their reputation as a "secure and safe" place. Police have not made any arrests because the cinema has refused to release the security video of the incident.
- Sydney Morning Herald, 1st October 2002

---
A court in Canada has ruled that you are not naked if you are wearing shoes, and thus not engaging in indecent exposure. Seven men were charged with "being nude in a public place without a decent excuse" (hey, what IS a decent excuse??) after taking part in a gay pride parade in Toronto. The men are part of a group called TNTMEN (Totally Naked Toronto Men Enjoying Mudity). Their defence lawyer, Peter Simm, argued that "Nude means absolutely, utterly, completely bare without a single solitary scrap of clothing. If you have any scrap of apparel anywhere on your body, no matter where or how flimsy, then ... you are not 'nude in a public place' under the law." Faced with this logical defence, Crown prosecutors dropped the charges. It would thus appear that Canadian streakers have the protection of the law, so long as they keep their joggers on!
- National Post / Canada.com, 19 Sept 2002
Interestingly, two women were cleared of indecent exposure charges in February 2002 when a judge ruled that an offence is committed only when the genitals are knowingly exposed in public. He said that since women's genitals are largely internal, they weren't exposed. Obviously this man (and only a man would say this) has never heard the terms "vulva" or "clitoris". Still, if you're a streaking female in Maine, US, the world is your (largely internal) oyster.
Ananova, 5th February 2002
---
Streaking is big news in Australia again after two male streakers interrupted the Bledisloe Cup Rugby Union match between Australia and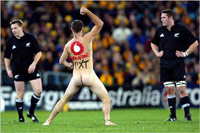 New Zealand. Kiwi Aaron Bain and Australian named Brett Mutton took streaking into the corporate realm when they painted Vodafone logos on their back before running nude onto the pitch, moments before an NZ player was due to take a penalty kick (he missed).
Vodafone is now in serious trouble with the police, due to the fact that Brett had rung Graham Maher, managing director of the company, and asked whether the company would help out with fines resulting from a "media stunt". Mr Maher had agreed to support them, despite not knowing the details of the incident. NSW Police are now investigating whether this is aiding and abetting a crime.
Bain's family, tuned in to the match, were shocked to discover him running around nude on the field. "Yeah, Mum, Dad, Nanna, Grandad [saw the streak]. Mum said she recognised that butt from about 20-odd years ago running around the loungeroom."
Both men have been charged and will pay fines of around $500.
SMH Online, 6 August 2002
This pic from the SMH. More pics here.
Click here for comments from the public on this incident.

---
Mark Roberts - again! Successfully streaked at the main stadium during the Manchester Commonwealth Games.
I'll just put the photo over in his section.Mark Roberts has done it again. This time he's repeated his 2000 trick by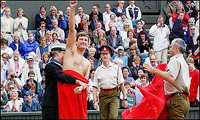 running onto centre court at Wimbledon during the men's final between Lleyton Hewitt and Argentinian David Nalbandian. Just as play was due to begin after a rain delay, Roberts stripped off and ran onto the court, doing a dance at the net and then athletically leaping over it in a somersault when chased by security. Apparently it took some minutes for officials to even react. The crowd was reportedly delighted, clapping and cheering Robert's antics. Naturally he's been charged and fined. Yahoo, BBC, 8 July 2002

---
During the Queen's Jubilee tour of a northern England town, 27 year old

Brynn Richard Reed stripped naked in a pub and then ran along side the Queen's Rolls Royce as it drove by the gathered crowds. His buttocks marked "RUDE BRITANNIA" (in the best tradition of Mark Roberts), Reed waved into the cab and shouted "Yoo hoo!" at Her Majesty, who steadfastly continued to look straight ahead. "He may have given the Queen the best gift of all," wrote Time Magazine. "The chance to be embarrassed by someone other than her own children."

Police managed to jump on Reed after the motorcade had passed, covering him with their coats and sitting on him while he was handcuffed. He has appeared in court charged with outraging public decency. - bbc.co.uk, Time Magazine, news.com.au, 8 May 2002

---

Singer Robbie Williams again revealed his outrageous side when he streaked at the trendy Rheinkassen nightclub in Cologne, Germany. Robbie, fresh from his concert at the Popkomm fesitval in the city, had gone to the club to relax and let it all hang out after the show. He ran naked across the dance floor and then escaped via a back door. - thesun.co.uk
---
More streaking news stories in the Archive