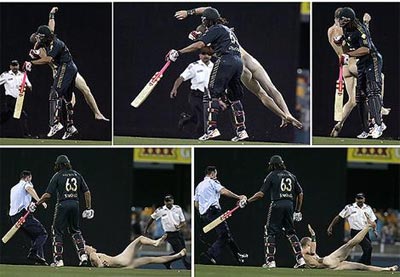 Today there's plenty of news coverage of last night's One Day final streaker. Andrew Symonds has not been reprimanded by Cricket Australia for knocking him down, even though he could have faced a ban for "interfering with a spectator."
The streaker, Robert Ogilvie, has been fined $1500 for "interfering with a person engaged in sport and wilful exposure." Who knew that interfering with a person playing sport was an illegal offence? Ogilvie says he did the streak after his mates dared him to do so, and he was drunk at the time.
Asked by reporters if he felt embarrassed by his antics, Ogilvie replied: "No. Not really."

He added that he would not do it again saying: "Nah, Nah. Done it once."Watch Full Movie Online Streaming Online and Download

Admitting it had been the first time he had streaked, he said: "You only live once."
He won't be bringing charges of assault against Symonds and apparently said "wake up to yourself" to the reporter who asked him that question.streaming film Transformers: The Last Knight
There's no further info at present about the second streaker who appeared later in the game.
Links:
Buck naked and $1500 bucks down – SMH
It felt good: poleaxed streaker – News.com.au
Symonds floors streaker during one day final – Reuters