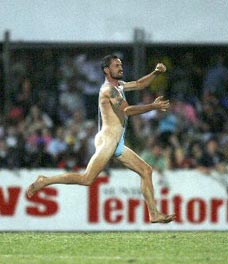 Looks like we have a new fashion when it comes to streaking. Never mind full nudity, today's fashionable streaker goes for the "mankini", the one-piece swimsuit made famous by Borat.
This became apparent at an AFL game in Darwin on Saturday night when a rangy tattooed man ran onto the field during the Western Bulldogs versus Fremantle game, wearing only a mankini.
The Northern Territory News reports that 11,000-strong crowd went absolutly mad, cheering him on. They even helped him to escape, offering clothes and holding off the security guard.
"He made a good run for it," the security guard said. "I tried grabbing him as he jumped over the fence but there was nothing to grab.

"I had a hold of his foot but he was all yucky and sweaty and I lost my grip."

The 28-year-old security guard said it was on the top of his list of bizarre things to happen while on the job.

"I've seen some pretty crazy things, but this was quite funny," he said.
Ninemsn reports that there's an "ongoing investigation" to find the streaker.