Streaking News Archive 2000-2001

Catharine Marie Maher was charged with indecent exposure after streaking at an Australian Rugby League game on 20th August. Catharine said she'd done it to "feel alive."
"I have a list of things I want to do in life and that was one of them," she said. "This is the only way I can keep my sanity, what with being so involved with my children," she remarked contraceptively. "It lets me know I'm still alive. I've done bungy jumping and sky diving. I thought 'Well, streaking across a field is something I've always wanted to do', and I wanted to do it before I turned 30, so why not?" The young mother was sentenced to 40 hours of community service. This should cure her of any feelings of youthfulness, spontaneity or vivaciousness, and thoroughly crush the idea of enjoying being alive. - AAP and Ananova, 20 August 2001.

---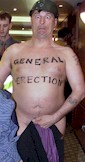 Serial Streaker Mark Roberts struck again at a Liberal Democrats conference during the UK general election in June. Roberts had stripped off his traditional velcro clothing and run naked onto the stage of the conference wearing only a toy hat and the words "General Erection" written on his chest. He also had the letters V, T and E on his buttocks.
Party leader Charles Kennedy was giving his speech at the time, and was at first taken aback by Mark's entrance, however he regained his composure enough to quip "Come on, we're a liberal party, we can put up with that." He also quoted Nye Bevan saying, "Don't go naked into the conference chamber."
Roberts was bundled off the stage by security guards and charged with a breach of the peace.
---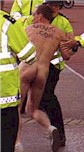 US President George Bush had his first run-in with a streaker when visiting Britain on July 19. Bruce Friedrich, an American vegetarian and member of People for the Ethical Treatment of Animals (PETA), dashed naked in front of the President's motorcade outside Buckingham Palace. Friedrich had the words "Go Vegan" written on his back. Non vegetarians were amazed he managed to find the strength to run at all. The Queen, safe in the Palace, missed all the fun. - Ananova 19 July 2001
---
Streakerama mentioned in South China Morning Post
I was very pleased to assist AnneMarie Evans in writing her great article on streakers which appeared in the South China Morning Post on the 30 March 2001. Streaker expert and historian Karen Jackson, 27, cites on her Web site - www.streakerama.com - the example of the 1996 Wimbledon men's finals between Richard Krajicek and MaliVai Washington.
Annemarie was anticipating streakers at the Hong Kong world rugby sevens and dug up a great quote from Mark Roberts' first streak in Hong Kong in 1993:
In Roberts' court case at Eastern Court in April 1993, when he was bound over for indecent exposure, defence lawyer Alan Au said in mitigation that Roberts had a clear record and the offence was "out of character". Meanwhile, 166 streaks on, Roberts, a former pipe-fitter, is now dedicated full-time to his art. "It must be one of the only paid jobs, where I pay for it," he says. "I could put on my CV that I love working with people. Thousands of them. Millions, if it's on the telly." - SCMP 30 March 2001
---

Oscar fans recently voted Robert Opel's streak past David Niven in 1974 as the top Oscars moment. It beat other contenders such as Cuba Gooding's "Thank you everyone ever involved in the movie" speech, and John Wayne's final public appearance at the awards. - Ananova, 26 March 2001
---
A male streaker has complained of being sexually discriminated against, after a streaking at an AFL pre season match in Darwin, Australia on February 19. Kevin James Geurds faced court on a charge of offensive behaviour, while his female accomplice was given an on-the-spot $100 fine and was allowed to get dressed and go home. "[The police] paraded me up and down without my clothes on - they wouldn't let me get dressed," he told reporters. It all turned out equal in the end, however, as no conviction was made against Geurds and he was not fined. - Ninemsn website and ABC website 21 March 2001
---
Scottish Comedian Billy Connolly honoured his pledge to streak during the British Charity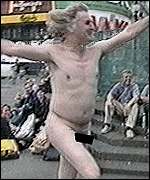 event Comic Relief on the 17 March 2001. He had promised to run naked after the first £1 million had been raised, and successfully made his dash around the statue of Eros in Piccadilly Circus in London. Later, a group of 50 men wearing Connolly wigs danced a highland fling naked, prompting scores of complaints from parents who found the whole thing obscene and not suitable for children, despite the sketch going to air after 10pm. Paul Walsh, 35, from Pimlico, west London, said he had watched the programme with his 10-year-old daughter Jade. He said: "I'm not a prude but this was disgraceful - and just wasn't funny."
This is not the first time Connolly has gone naked. He has streaked in almost all his documentaries, even one filmed in the Arctic Circle. He also appeared naked in the film Mrs Brown. - BBC Website, 18 March 2001
PS. Billy makes my list of The Thinking Woman's Most Shaggable Blokes. Saggy bum, wrinkles and all, the man deserves a medal.
For a list of websites offering nude photos of celebrities, click here
---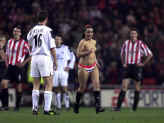 Mother of two Michelle Newton decided to liven up a United vs Sunderland soccer match in Scotland on the 3rd February, so she stripped down to her union jack undies and best knee-high boots and did a run onto the field. Unfortunately she was the first streaker to be subject to new police tactics: ignoring the offender. Cold and disappointed that even the players had turned their back on her, Newton left the field and was promptly arrested by police waiting on the sidelines. This new police tactic is the result of recommendations by psychologists, who say that streakers are only after attention, and that a police chase only encourages them, as well as embarrasses the boys in blue. This tactic is similar to the parental idea of ignoring a child having a tantrum. The tactic will be used in the future. How the crowd reacts may be another thing. - Record-Mail, Sunday 4 February 2001

---
Briony Penn and five other topless women successfully made their protest against logging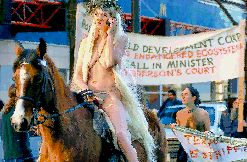 on Saltspring Island, Canada in Mid January. Penn, a field biologist, had donned an ankle-length wig and taken to a horse to make her point, saying she was emulating Lady Godiva, who had rode naked to protest against injustice hundreds of years before. She was almost mobbed by photographers and other media personnel.
"We've tried everything to raise awareness about endangered ecosystems, but they won't listen to the scientists and they won't listen to the people," said Penn, 40, who has a doctorate in geography.
"So we're exploiting the media, taking our clothes off. And look at all of you."
"I've got a PhD and no one listens," she declared. "I take my clothes off, and here you all are. So thank you."
---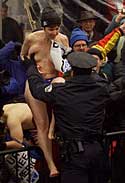 Anti-Bush protesters in Washington interrupted the inauguration ceremony on January 20 by waving placards, shouting and running around nude. The protest featured a number of streakers who braved the freezing weather to make their point. Most were promptly arrested. It would appear that the nudity did little to stop George W. from taking the oath.
---
Organisers of the annual Nude Surfing Carnival, normally held at Sydney's Bondi Beach during the Fringe Festival, are disappointed that the council has banned the event due to traffic problems. Deprived of a venue, they are nonetheless determined to feature some nudity, any nudity, to placate the disappointed masses. Thus, random nude appearances are scheduled at other events for the rest of the festival. Dubbed "Where's Willy", nude fans can win prizes for spotting the surprise streakers when they pop up in videos featured on the Fringe website, sydneyfringefestival.com.au. Organisers say it's one way of "keeping the nudity dream alive" until an alternative venue for nude surfing can be found.
Peter Moscatt, mayor of Bondi, said the event had only been banned due to practical purposes. "I don't care if they surf nude upside-down, that's got nothing to do with it. It's not a moral thing as far as I'm concerned." - Sydney Morning Herald, 15 January 2001
---
Darts champions Ted Hankey and Shaun Greatbatch were stunned when a naked woman ran onto the arena during the third game of a world championship darts match

at Frimley Green in Britain. The woman, known as Emma from Oxford, received a standing ovation from the shocked crowd, who proceeded to break into an impromptu version of "Who Let The Dogs Out" as she was led from the field by security staff.
Greatbatch wasn't impressed. "I've been watching darts for 20 years, waited 18 years to play in this tournament and this goes and happens to me," he said. "I wasn't nervous during the match but the streaker certainly affected my game. I just wish I'd got her name and address!" - Ananova website, 8 January 2001
---
Anthony Debijl, 20, decided the best way to get a part on the new Australian reality TV series Big Brother was to get lots of exposure. Thus, he got nude and streaked through a suburban shopping centre during busy Christmas shopping, his friend Troy Gore filming the entire stunt. Unfortunately, Senior Constable Tracey Andrews was on hand to witness the event and gave chase. Anthony subsequently appeared in Newcastle Local Court, charged with wilful and obscene exposure.
"He was wearing nothing but a cheesy grin and came running through the crowded promenade," the police statement claimed. "Upon observing the dangling genitalia Constable Andrews sprinted after the defendant, putting Cathy Freeman to shame. She managed to run down her prey in the car park just as he attempted to enter a Subaru WRX," the statement claimed.
The producers of Big Brother admitted the stunt did not rule Anthony out of the running for the TV show.
"It appears there is a tendency among people to get their gear off in an effort to get on the show," Network 10's head of factual programming Tim Clucas said. "They might get our attention that way but it's no guarantee they will get on."
"Anthony's not going to be rejected by us purely because of that. Sometimes during the cricket the most exciting part is seeing the streaker."
Unfortunately, recent reports suggest that Anthony's blushing parents may veto his appearance on the show. - Daily Telegraph website, 8 January 2001
---
Vincent Bethell has made a career out of protesting against Britain's anti-nudity laws.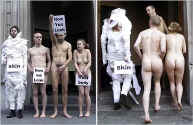 His latest protest has been something of a breakthrough in that country's prudish history; he has become the first defendant to appear in court without clothes. Bethell was being tried for indecent exposure following one of his many public forays - he has appeared naked at Buckingham palace and climbed a tree opposite Parliament House in the buff. During the trial, Vincent had to remain seated in the waist-high dock to prevent female jurors from being subjected to his nether regions.
The court was told that Bethell's nudity was likely to "harm the morals of the public or their comfort, or obstruct the public in the enjoyment of their rights". Vincent defended himself by saying "I have always been interested in what it is to be a human being, a social self-aware life form. It is just my skin; being a human being; just going about my existence." - The Telegraph, London, 15 January 2001
---
A female streaker livened up the recent fuel protests in Britain. The nude woman cavorted in front of protesting truck drivers on London Road, Edinburgh. The truckies consequently forgot about outrageous petrol prices and concentrated on their horns. The streaker got away before police arrived. - The Record Mail, 13 September 2000
---
Durham County Cricket Club in England announced a fascinating new plan to discourage streakers, in the wake of the British streaking outbreak. Any naked pitch invader, once caught, will be made to stand naked in full public view for 20 minutes. The theory goes that the chilly weather and subsequent shaming will put the streaker off their hobby for life. But will it work in Trinidad? - BBC Sport, 7 August 2000
---
5 separate streaks occurred on the 5th August 2000 at Old Trafford cricket ground in Manchester, England. Three middle aged men disrupted the Third Test between England and the West Indies by giggling their way across the pitch.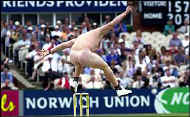 Women at the ground agreed that this was a far cheaper way to have a mid-life crisis and clapped accordingly. Men could only admire the daring of three large naked lumpy blokes exposing themselves to the critical eye of West Indian sportsmen.
Another two separate runners also made their way to the middle, one leaping the stumps in the time honoured fashion, the other wearing a fabulous black wig and multicoloured suit. No explanation has been offered as to why this last man kept his clothes on. Officials at the ground were reportedly unimpressed, although spectators said they quite liked the wig. - BBC News Online, Ananova, 5 August 2000
---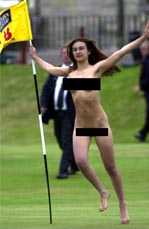 The July 2000 British Open at St Andrews, Fife, was invaded by a succession of five streakers. Egged on by their friends, and persuaded by rumours of a reward for the first streaker at the open, the three women and two men were caught cavorting on various greens during Tiger Woods' blitzkrieg game. "There has been much publicity that there was money available and it was publicised that a mischief-maker had made money available. Unfortunately, that appears not to have been the case and she had no knowledge of who to contact to obtain the cash," said the lawyer of Jacqueline Salmond, 20, who was considered to be the most distracting of the troupe. All were fined between 100 and 120 pounds. The police have since charged the "mischief maker" who offered the bogus reward. - BBC News, Ananova, 23rd July, 5 August 2000
---
Serial streaker Mark Roberts became the second ever streaker at Wimbledon when he ran onto Court 14 during a doubles match featuring Anna Kournikova. The tennis star hid under a towel while security guards chased Roberts around the arena. He successfully performed a somersault over the net before being collared (as it were). Written on his chest was the slogan "Only the balls bounce", a reference to Kournikova's recent advertising campaign for underwear.
"Everyone had a laugh," he said, before revealing his real mistake. "I forgot to look at Anna. She is a real cracker. I would never have approached her. I didn't want to upset her." The All England Tennis Club took the incident in its stride. William Hill, a bookmaker offering 2-1 on a streak during a Kournikova match, was inconsolable. - Press Agencies, 6 July, 2000
---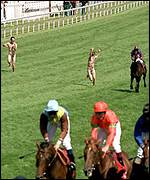 Getting the ball rolling in the British summer of streaking were two streakers who won their race at the Derby at Epsom. Following the horserace, the two naked men dashed for the winning post before collapsing at the line, into the arms of waiting security. The Queen and Queen Mother witnessed the event and were apparently not amused, although photos of the Queen Mum using binoculars have surfaced in some tabloids. - BBC News Online, 10 June 2000
---
Streakers protesting against against plans for Spanish water supplies appeared at a forum on the world's water crisis in The Hague. Daubed with "Don't Privatise Water", they ran on stage and interrupted an important speech. Dutch Crown Prince Willem Alexander, president of the forum said: "This is a forum for normal people, for normal discussions. I ask you to sit down." - The Sun Herald, 19 March 2000
---
Click here for the recent news items page