Nudism and Naturism Gains Popularity
Nudism, also known as Naturism, has been around for a long time. Nudists like to enjoy recreational (and sometimes business) pursuits without being encumbered by clothes. In the seventies the "nudist colony" was a popular destination, at least in Europe, and they were the butt of many jokes at the time.

These days, the "colonies" are called nude resorts and they offer the full hotel-type shebang, without the extra clothing. And they're becoming extremely popular.

A report in the Wall Street Journal at the beginning of 2003 said that nudism and nude tourism were starting to take off in the US. Apparently Central Florida's Pasco County is the home of six nudist resorts and considered to be the best place in the country to be nude. It estimated that over 100,000 nudists visited the County each year, bringing in significant tourist revenue.

The American Association of Nudists has 50,000 members, up 20% in the last decade, while there were 262 clubs and business catering to nudists in 2003 (and only 189 in 1983).

The Journal also reported a 2001 survey that revealed that 19% of Americans had skinny dipped in mixed company and 18% would consider visiting a "clothing option" resort or beach.

A lot of the resorts are upmarket and offer plenty of activities and conventions.
More information about nude resorts here.
Advertisement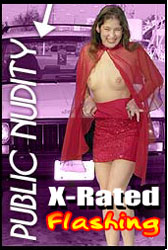 X Rated Flashing
Offering a Free Trial!!