Nude Resorts
Nudist resorts are becoming increasingly popular among the clothes-free community. Here's a few examples of the main naked holiday destinations.
Hedonism II - Located at Negril, Jamaica, Hedonism II has developed something of a reputation for orgies, perhaps unfairly. It does seem to attract swingers and from the reports at Nude Travel Guide things get steamy after midnight, but it's mainly just a fun nudist resort, one that even has "prude" areas for those who aren't as into nudity.

The resort has it's own nude beach, as well as plenty of pools, and offers heaps of organised entertainment and activities. Prices are steep and all inclusive, with a minimum three night stay.
Cypress Cove Family Nudist Resort - in Florida. This family-friendly resort offers all the usual facilities: pools, bars, restaurants, beaches and activities. It has strict rules against public sexual activity or intoxication, and the room rates are relatively cheap.
Bardot's Clothing Optional Resort - located at Anna Bay on the Central Coast of NSW, Australia. This is one of the few Australian nude resorts and it boast the incredible Samurai Beach which is a huge stretch of Pacific ocean. The place is relatively low key and relaxing.
More resorts will be added in the future
Related Articles and Sites
Grin and Bare It - The Guardian
Advertisement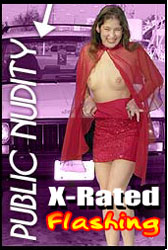 X Rated Flashing
Offering a Free Trial!!